1. Heavenly Father's Creations
- Lacing cards

2. Put on the Armor of God
- Dress a Nephite warrior

3. - 4. The Seven Days of Creation (2 pages)
- Story and numbers 1-7 matchup

5. - 6. Plant a Garden (2 pages)
- 14 veggies to match for color and shape

7. - 8. All Creatures Great ansd small (2 pages)
- Mix and match animal heads to bodies

9. Remember the Sabbath
- 10 Pictures for Saturday or Sunday

10. Noah's Ark
- 5 animal finger puppets


Ordering Information:
(For orders placed outside the Continental United States, please contact us for a shipping quote)

LDS Reverence Book Kit, Unfinished

$48.00


---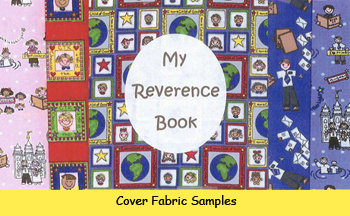 Kit Includes:

10 pages, adhesive, additional Pellon®, instructions and patterns, one of five LDS cover fabrics and a My Reverence Book oval.


You will need:

One yard of sew on Velcro®, fabric markers, one 27-30" shoelace, two different pieces of fabric (7 1/2" x 5"), a 90/14 size Schmetz® needle for your sewing mahine, and a can of spray starch.


Optional Items:

Three different colors of medium size rick-rack and Fray Check®.